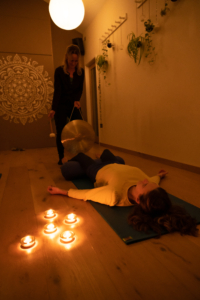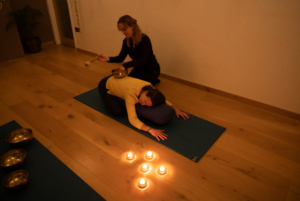 I work with Tibetan Singing Bowls, wind gongs & aromatherapy
Working in a one to one session or a group, sound healing  clears energies and blocks; physical or emotional.  I use sound massage where the bowls are in direct contact, as well as sound baths.
The vibrational healing with singing bowls is a very powerful way to shift energy.  It is also wonderfully relaxing and healing.
Aromatherapy is a fabulous way to change your state or mood, and can easily be done yourself as part of your self care practice.
I am a trained Spiritual Counsellor and so use these practices in my coaching too when suitable.
As well as offering one to one sound healing, I run a variety of workshops in and around Newbury.  Focusses include:
Confidence
Healing
Listening circles
Creativity
Movement
Meditation
Massage
Aromatherapy
Chakra opening
https://www.instagram.com/soulandsoundwithlaura/
Sound Healing is not advised for those who suffer from epilepsy, are pregnant or wear a pace maker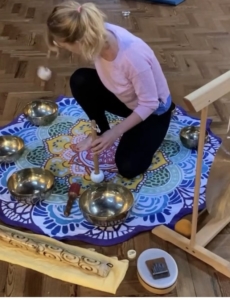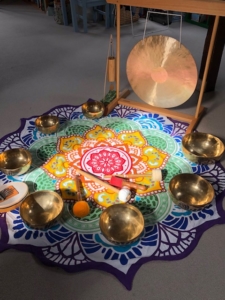 Coaching with Laura for the past 7 months has been nothing short of transformative! She's patient, understanding and always listens to my needs in every session. The sessions truly helped me to stay grounded yet focused during this whole pandemic.
"Your sessions have completely changed my life. I feel liberated in a way I couldn't have imagined."
"I have been enjoying acting and life coaching sessions with Laura for 18 months, and throughout that time, I feel that I have developed significantly both as a person as well as an actor and writer.   Laura has consistently and enthusiastically encouraged me to feel more confident, more expressive and more emotionally open throughout this time and this support has been (and continues to be) an invaluable resource which will hopefully lead to bigger and greater things in the future. "
"The skills that you draw on for our sessions are so powerful and it's amazing how applicable they are in so many areas of my life."
"The classes are fun, imaginative and very supportive. You are such an enthusiastic teacher!"
"Laura's classes are the highlight of my week. A gifted and flexible teacher as well as a creative and lateral thinker, she adapts with ease to the individual learner and tailors her classes to suit the student's personal wishes and needs. She is adept at identifying weaknesses to work on and bringing out strengths to build on. She is the most caring, supportive, and encouraging of tutors, and her classes are always well prepared."
"He has come on incredibly. He loves the classes and I can already see huge amounts more confidence."
My sessions with Laura have been powerful and transformative over time. I always feel supported and at ease during my sessions with her. Laura has an ability to sense what I need in the moment, which I haven't experienced before, and is able to adapt her support and coaching quickly. I really value my sessions with Laura and feel much more confident in myself and my future
The sound bath was so beautiful … Laura's aura was so bright … I felt wonderful for days afterwards
Laura is an intuitive creative with a fine sense of humour. She is much loved by all her pupils, no matter their age, and always finds new ways of drawing them out. Her attention to vocal detail, as well as her skilful approach to unearthing the different nuances of a character in performance are invaluable in helping her pupils progress. She cares deeply about each individual she works with, and motivates them in a calm, yet empowering way. Laura's pupils consistently deliver excellent results in LAMDA examinations, which is a testimony to her passion and dedication to both teaching and performance.
Working with Laura has been transformational. We met a week before lockdown and had one in-person meeting.  We clicked straight away and she really took the time to understand my self-limiting beliefs. She has a truly special way of helping you dig deep and connecting to your true self.  I had been feeling lost and disconnected and she has brought out that inner spark again. Over the last 7 months, Laura has helped me prepare for major speaking events and given me tools for life. Our sessions are always relaxed and I always leave the session feeling centred, with clear action points. I feel like I've known Laura much longer as the coaching relationship is very personal. She has an incredible aura which makes it so easy to tell her anything and everything without fear of judgement. I've learnt about myrons and the power of the breath and for that I am truly grateful. Most importantly I've learnt to believe in myself again, learnt to trust myself and realise that I had the power to do all these amazing things all along. An incredible coach like Laura helps to unlock that blocker which prevents us from seeing our potential. Working with Laura has been the best investment I have ever made in myself. If I could write a letter to my younger self, I would tell her to get a coach much sooner.
Laura is personable and approachable, and tailors each session to the individual rather than having a regimented, 'one-size-fits-all' approach which is fantastic.
The feedback has been 100% positive which is absolutely fantastic and everyone has commented on how lovely you are Laura and how you make everyone feel comfortable.